Gummi bears are delicious. I have yet to meet anyone who can turn away from the sweet little treats. They remind me of my great-grandmother. Every Christmas she would present my brother and me with a gold box from Old Erie Coffee House. I knew as I untied the bow that my own Christmas treasure was waiting. I looked forward to this every year. When the shop closed Gram made sure to keep the tradition alive as did my mother when Gram died in 1996. To this day I still open a pound of gummi bears each Christmas.
The history of gummy candies goes back to 1920s Germany when Hans Riegel decided to start his own confections company. His endeavor would become what we know today as Haribo. I love this brand because their gold packaging reminds me of the gold box from my childhood. It was meant to be.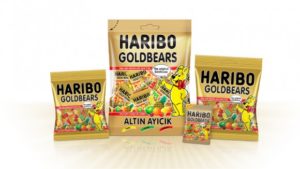 An article from Bon Appetit magazine explores the entire history of gummi bear goodness and mentions that gummy candy is rooted to some extent in another chewy treat, Turkish delight. Which coincidentally is where I was when a tiny red gummi bear would play a major role in my Turkish adventure.
When I visited Turkey in 2015 I was surprised to find that English was not as prevalent as I had anticipated. My basic Turkish allowed me to exchange pleasantries, count, pronounce things accurately and I knew my colors; but I relied heavily on my friends to translate. As we left Istanbul and traveled east through Kayseri, Cappadocia region and eventually Adana (where we would stay with our friend's family) this language barrier became even more obvious.
I knew it wasn't realistic to master an entire language before or during my trip. Just the same I was angry with myself for not knowing more and I hated having to rely on others so much. You can imagine how I felt when my friends had to step out for a few hours leaving my other English-speaking friend and me to our own devices with his Turkish-speaking family. So we did what anyone else would do…we hid in our room. Seriously.
I work in communications. I should be the one to man up and leave the room. I didn't.
Some family members came in to talk to us but we couldn't understand them.  They left. We didn't want to be rude but just couldn't bring ourselves to venture outside the room-it was awful. SIDE NOTE: after some Google translate action I realized they were saying "Do you understand us?" which I still laugh about!
Then the most amazing thing happened…
Our friend's five year old nephew, Yağiz, came into the room holding that golden bag of joy I knew so well–Haribo gummi bears. He handed me a red bear and I responded "Teşekkürler! Kırmızı," Turkish for "thank you" and "red." We went on this way through the bag using colors and numbers in English and Turkish. We moved from gummi bears to pointing at things around the room – Yağiz teaching us the Turkish word and we would teach him the English.
Before we knew it, the three of us went to the kitchen and sat at the kitchen table. Soon we were joined by the entire family who were excited to see that their American guests had come out of hiding. It was late, nearing 11p.m. but in line with typical Turkish hospitality, a full buffet of snacks and drinks appeared and we began to play a board game together sharing stories and learning about each other's cultures.
I remember the laughter and the smiles and the feeling of friendship around that table. I remember that we were so loud that when our friends returned they could hear us from the elevator. I remember the look of shock and joy on my friend's face when he saw us all together as though we'd known each other for years.
I don't know how long I would have hidden away in that room without the "sweet" gesture from a five year old and his golden bag of gummi bears. I do know that of all the amazing things I saw on that trip, the moment I was handed that red gummi bear is one that holds more meaning for me than any tourist attraction could.